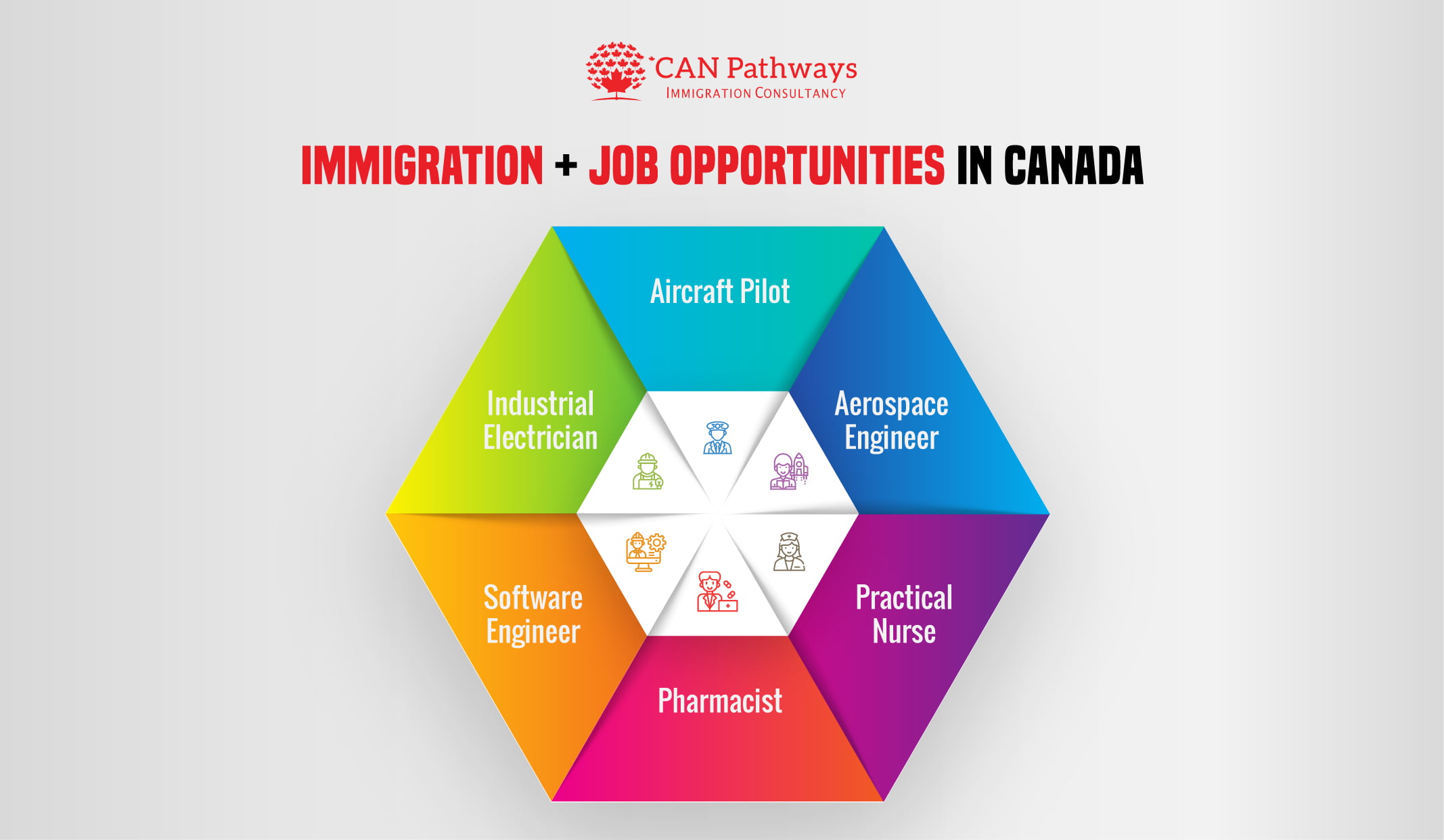 The land of Maple is the land of opportunities for many! Thousands of people yearn to get a permanent visa on the land of opportunities. Even the CPOVID-19 outbreak has not changed anything to stop these enthusiastic immigrants to apply from all across the world. The possibility of a better life with better medical facilities, world-class education centers is what attracts them apart from other countries, into the laps of maple trees known for versatile cultural history! Immigration to Canada is no more on a verdict basis, it's more of what value you are for a Canadian Govt, as they are keenly looking for professionals that are highly skilled and knowledgeable.
Canada caves in for universal healthcare and education, a socially progressive government, a reputation for kindness, high quality of life, and a beautiful natural environment. Canada is a possible hub for personal and professional growth. This article does allow you to see the inner gems of Canada with a microscope that immaculately acts as turf for your personal and professional growth without any chaos. For that, you need to know the possible opportunities that Canada the land of maples can offer. Let us see what they are:
Outrageous figures added in job numbers: The 10th largest economy in the world, Canada houses 290,000 numbers in the job sector in the year May 2020. We have seen a recent surge in jobs for only a month which is also the highest jump Canada has seen in 45 years. Economists passionately believe that if this trend continues it will narrow down the gap between the number of jobs lost and gained due to COVID-19. One could find a large influx of jobs in the new jobs in Quebec, British Columbia, and Alberta. This is good news for foreign nationals who are applying to immigrate to Canada in 2020 through one of the 70+ immigration and visa programs available.
Quantum Jobs for skilled and unskilled labours:
The land of maple has a high demand for workers in both categories skilled (professional and degree-certified) as well as unskilled (entry-level and on-the-job experience) professions in a plethora of industries. The reason for the high demand for workers is due to some conceptualizing factors such as an ageing population, lack of interest from young Canadians to pursue certain intermediate skilled jobs such as trucking, farming, and hardship trades as well as the increased popularity of urban colloquial centers (Toronto, Vancouver, and Montreal), leaving the larger remote regions across Canada underpopulated and with a lack of much-needed skills appetite.
This gives immigrants pursuing better quality lives and opportunities abroad a great advantage in Canada. You can easily land your dream job if you have the necessary slot- experience, proclaimed skills, and a strong-willed determination. Your new job will come with a generous lump of salary with an estimation of $52,600 annually, which is the Canadian average. If your family plans on joining you in Canada they'll get to benefit from more amazing perks such as free and imminent healthcare, and education for all permanent residents and citizens with a caring and progressive government and no criminal records, your family is going to have a blast! Starting afresh in a new land of maple with no criminal records sounds like having a cup of coffee thickly brewed with natural herbs and essential elements to add aura.
Occupation
Top 20 Occupations in-demand in the Land of Maple
Estimated Average Annual Salary (CAD)
Registered or Licensed Practical Nurse
$76,342 – $129,781
Long Haul Truck Driver
$44,850 – $75,770
Welder
$40,938 – $69,595
Industrial Electrician
$49,334 – $81,491
Aerospace engineer
$89,700 – $152,490
Software Engineer
$92,450 – $157,165
College or Vocational Instructor
$47,736 – $75,408
Occupational Therapy Assistant
$58,851 – $100,047
Aircraft Pilot
$66110 – $112,387
Early Childhood Educator
$33,150 – $45,884
Cook or Cook
$25,350 – $59,670
Farm Worker
$22,620 – $35,687
Pipefitter
$63,239 – $87,828
Pharmacist
$76,342 – $129,781
Construction Estimator
$57,504 – $97,757
Business Management Consultant
$75,692 -$128,676
Prolific Careers for immigrants in STEM industries
According to the Canadian Government, Science, Technology, Engineering, and Math (STEM) skills are vital to their knowledge economy. For this reason, millions of software engineers, information systems analysts, computer programmers, financial auditors, accountants as well as advertising, marketing, and public relations professionals are accepted for immigration to Canada annually in huge numbers.  They have emerging reputations as the land of maples' own Silicon Valleys. Working in Canada's thriving ICT sector can set you up for a comfy life with an average hiking salary of up to $80, 000 – $100, 000. Not to mention the prospects of working for notable tech companies such as Amazon, Facebook, and Shopify.
Prolific positions for women at STEM
STEM career paths are predominantly sought after by men. However, the Canadian government aims to increase the representation of women in these important and innovative sectors, known to the amplified reach of common women in tech sectors. The Natural Sciences and Engineering Research Council of Canada (NSERC) and other similar programs promote careers for women in STEM industries by promoting their work, offering intense scholarships, fellowships, and awards up to $1000 for women with outstanding academic qualifications and achievements. What's more, Canada readily welcomes STEM degree holders and foreign workers with experience in STEM fields to immigrate to Canada. Half of the Canadian population with STEM skills are immigrants. So, if you're a woman looking for opportunities abroad, Canada may be the perfect hub for your tech sport to pursue a degree in STEM or climb up the career ladder of perfection with many accolades to your accord.
Ample Room for Business opportunities
           The courage to lead and prosper are the signs of a good businessman or businesswoman. However, Canada known for ample opportunities is the home for all businesses across the world. Here, Research and Development start-ups get significant tax relief and their investors can claim up to 50% of their investment back from the government. Sounds exciting? Isn't!
However, the 1st step towards a successful plan is to find venture capital or angel investor group in Canada to invest in your business plan, in the right mode.
If that doesn't excite you, we have more established business owners who want to do things their way will be interested in theProvincial Nomination Program (PNP). Each of Canada's 13 provinces and territories has its own entrepreneur and investor visa categories to accommodate every type of business venture.
A recent report shows, that Farmers, restaurateurs, business consultants, and sustainable business owners all over the world are relocating to Canada, because of the amplified growth it offers as well as of the transparent Canadian immigration process improving the life of common man and businessman with ease.
Go merry go round at maritime regions
There is a lot more to Canada than Toronto, and Vancouver. Canada's untouched royal maritime provinces are welcoming newcomers through a special immigration category called the Atlantic Immigration Pilot. The Pilot program aims to boost economic activities in these regions and amplify the infrastructure to pave way for an influx of new and dynamic business opportunities.
Canadian Immigration is paying huge attention to make the immigration process as transparent as possible with a new scope for immigrants with profound knowledge about French and German-speaking professionals are given special preference. The Canadian govt is taking pertinent efforts to improve the immigration services making it less chaotic for an immigrant.